So, here we are at Gillespie Field with planes that need to go to Montgomery and Palomar. The forecast shows very marginal conditions. We have 2 options: leave the planes here and have them picked up by the owners or try to fly them back. After waiting for a few hours and monitoring the weather reports and forecasts we decided to fly them back home. Issue one of today: how do we get to the aircraft??? Yesterday, it was quite easy: we were instructed to park our planes in front of the terminal building. But today, we are at the other side of the airport and you can not just "walk over there". The local flying school helped out. They provided "transportation": yep, a golf cart…
Jeroen and I took off for Palomar; on a clear day a relaxed 30 minutes flight. Initially we had good flying conditions. But when we were getting closer to Palomar, we saw that the airport was hidden by a cloud base that was just 700 - 900 feet above ground. Palomar was "special VFR only". We contacted the tower and found out that we were not the only guys up here trying to get to Palomar. At a certain point in time we had at least 4 other aircraft in a holding pattern way outside the class D airspace of Palomar.
But then we received a clearance to enter the Palomar airspace. We were on a long final when we were instructed to fly north again. By now we were about 800 feet above ground; the terrain has a lot of hills; visibility is poor and other planes are flying in…
OK, N2454G cleared to land (again). Back to the track that would bring us in; "Skylane 2454G make a 360 over the left"… Shit, another plane is allowed to land before us. "Palomar Tower, 360 completed"; "Skylane 2454G make another 360 over the left". We're still under a thick overcast at 700 – 900 feet above ground and visibility is about 3 – 4 statute miles…
"2454G cleared to land; sorry for the delays"… Hey, we're more than happy if we can proceed now… The G1000 is our friend today. It guides us nicely to the centerline on a 4 mile long final. We don't have the airport in sight, but the G1000 shows that we are on the right track. And suddenly: there she is: the runway. It became my best landing after 2 weeks of flying over here. What a great way to complete the tour. Have a look at the GPS track: it shows all the nice turns we had to make today. In the end, a 30 minute flight became more then 1 hour. But it was good fun.
The other aircraft also made it to Montgomery, so we can now finalize the tour with a lot of paperwork… Pay the bills, hand over the keys and paperwork and take a picture with the Pinnacle Aviation Academy team that helped us out to make this tour possible. From left to right: Paul Wickstrom, Sheri McJimsey, Cathe Fair-Johnson, Jeroen van Rossum and Addie Janssen.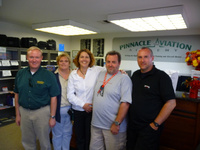 We hired a car to drive to Montgomery to pick up the rest of the group. Then it's time to get to downtown San Diego. We had a perfect night out in San Diego. Max turned 60 at midnight and that required some special attention of course. Another beautiful day in paradise.
That's it for today. Have a look at the pictures of today: Flying from Gillespie Field (KSEE) to McClellan-Palomar (KCRQ) and the tracks of today:
---
Want to respond to this post?
Look me up on
Twitter
,
Facebook
or
LinkedIn
.