Today I want to get closer to Sydney. Tomorrow I will need to hand in my car and I don't want to spend too much time driving around the centre of this big town. Therefore the schedule of today: find one more interesting place in the mountains and then drive to one of the towns close to Sydney.
The morning started with a friendly discussion with Greg, the owner of the Bethany Manor bed and breakfast. I told him that I wanted to go for one last walk before driving away from the mountains. Well that turned on the tour guide in him… The maps came out and within 10 minutes I had my plan for today. Today I will drive to a very nice lookout that not many people will go to, because it's not printed in bold and big letters on any map and the road to it is unsealed.
I will drive to the Butterbox Canyon or lookout. It's about 45 minutes on an unsealed road that goes up and down and has several "challenges" like big holes. It's a "4 wheel drive preferred" road. Hey, I have a 4 wheel drive… sort of. I have a Mitsubishi Outlander. We can do this.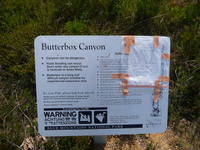 After the bumping and turning and escaping from death (the story is slightly dramatized) I ended up at the parking place. From here it's a 15 minute walk and then you see things like this:
Greg was right: this is probably the best way to leave a magnificent place like the Blue Mountains: with an overview of everything it has to offer.
Then I had to go back on this fabulous road. Doesn't look to bad does it? That's because something can't be expressed by pictures. You have to be there…
After this nice walk it was time to find a hotel close to Sydney. This morning I planned to go to Parramatta. It's about 45 minutes away from the hotel I need to go to tomorrow and the hotel I choose has everything I need today: a guest laundry, a Woolworth across the street, a restaurant and a bed.
After driving for about 30 minutes the scenery changes dramatically. The mountains are gone. The amount of cars increase and within no time I am surrounded by buildings. And then there's my hotel. Time to prepare my move tomorrow and clean out the car…
I don't know what happened to my PhotoTrackr today. But for some reason it stopped recording somewhere on my way back from Butterbox canyon. Therefore my track of today is not complete…
Tuesday 14 April 2009
---
Want to respond to this post?
Look me up on
Twitter
,
Facebook
or
LinkedIn
.